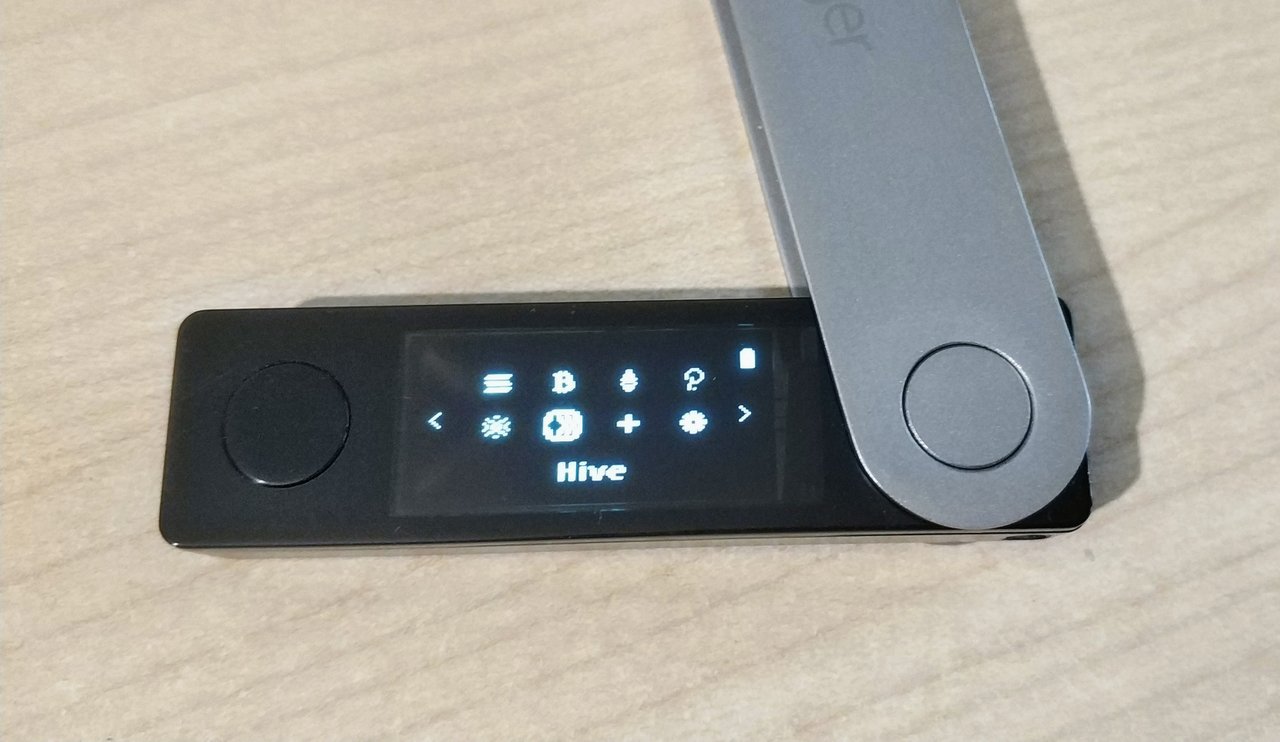 Hive witnesses have reached a consensus on the new HBD savings interest rate at 20% per year. It makes HBD the industry leader and a desirable stable coin.
For those who would like to invest a large amount into HBD stable coin, creating and managing cold storage wallet might be crucial. Thankfully, it is fairly simple and safe thanks to Hive Ledger Wallet.
Let's start by explaining what is a cold storage wallet and how it fits into the Hive ecosystem.
Cold storage is an offline wallet used for storing bitcoins. With cold storage, the digital wallet is stored on a platform that is not connected to the internet, thereby protecting the wallet from unauthorized access, cyber hacks and other vulnerabilities to which a system that is connected to the internet is susceptible.
The ultimate cold storage is a hardware wallet like Ledger Nano S or X. Why? Because neither you nor anyone else have access to private keys stored on a device. You can only use it to authorize transactions (technically speaking - sign transactions) to interact with the chain. This guarantees one thing: you are not able to compromise your private keys! You cannot paste it anywhere on the internet as you don't have it.
---
Btw, if you don't have a Ledger wallet yet, buy one with this affiliate link to support me!
---
Usually, you can generate unique addresses by deriving multiple private keys on your hardware wallets. It's because an address wallet is often a public key (or its modified form) paired with a private key stored on your device.
But Hive is different than most blockchains and you cannot freely generate wallet addresses. You need an account with a username that is stored on-chain. Each account on Hive has a set of public keys associated with different roles.
To create cold storage, you need to replace all your current keys with those generated on your device!
Sounds complicated? It's not as you can do it with a few clicks on https://hiveledger.io.
Just remember a very important thing: you use active and posting keys to interact with Hive frontends (like peakd.com or hive.blog) to post, vote, and transfer your funds. If you replace your current keys with those on your device, you won't be able to interact with the chain using frontends, wallets, and programs that do not support ledger. Currently, there is only one wallet that supports Ledger Nano S/X devices and it is Hive Ledger Online Wallet. That's why I recommend using a spare account (or a brand new one) to create the cold wallet.
So...
The process of creating cold storage wallet on Hive is fairly simple
Install Hive application on your ledger hardware wallet
Get an account
Update the account with keys derived from your hardware wallet
Install Hive application on your ledger hardware wallet
Hive application is now listed in the App catalog in Ledger Live. But because it's a preliminary listing, you need to enable Developer Mode. To do that, you will need to navigate to Ledger Live settings -> experimental features and activate "Developer mode" in order to see it listed in the Ledger Live manager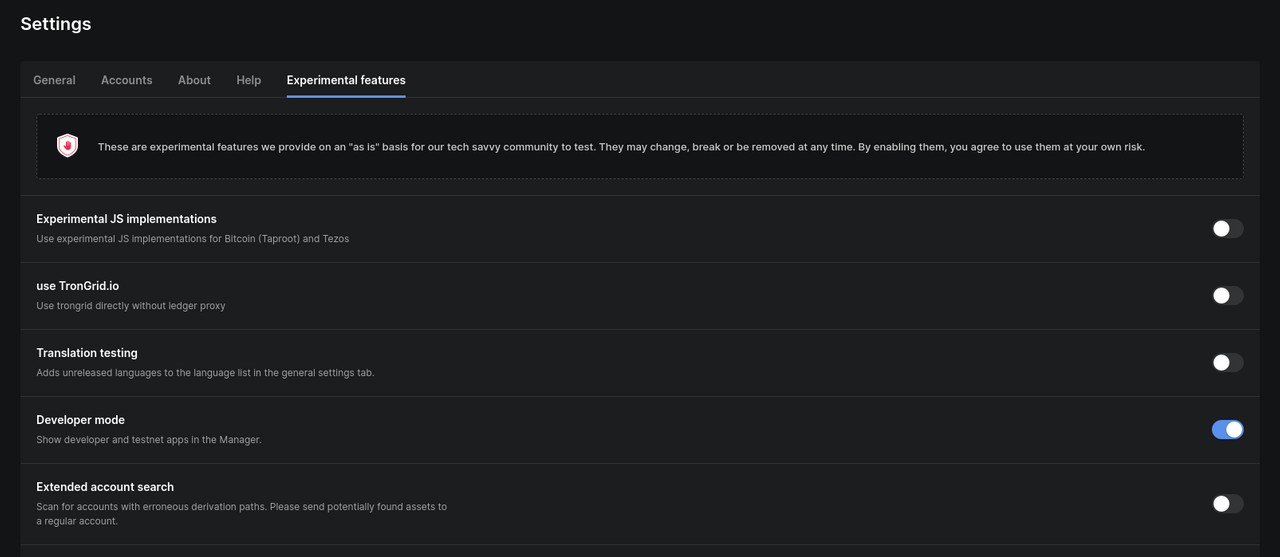 If you already enabled Developer Mode, you can search for Hive application and install it as any other ledger app.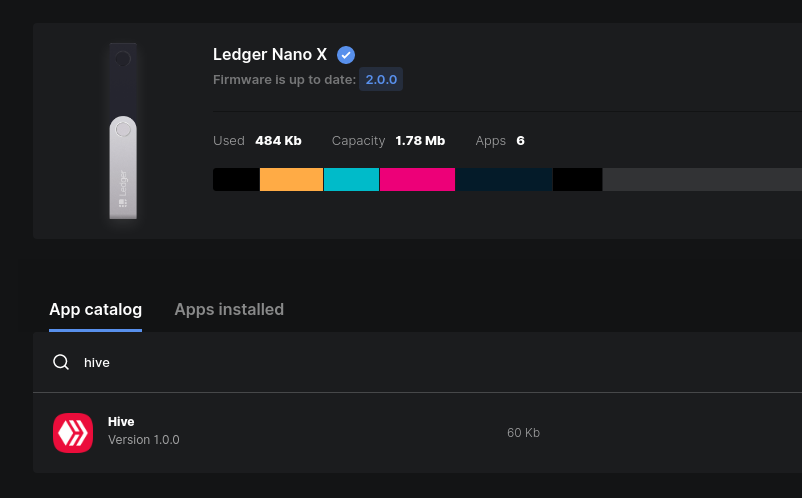 Is dev Developer Mode safe?
Basically, if you don't install unknown apps, you're good to go. Apps published in developer mode usually don't have GUI wallets available or are too complex to use for a mainstream. Hive is undergoing an audit and will be officially published soon and you can safely use it even now. Enabling Developer mode does not pose any security risk to your assets.
Get an account
To get a new Hive account, simply visit https://signup.hive.io and select desirable way to do it. You can instantly get an account without any verification by paying ~3$. You can also try free providers which usually requires phone or email verification.
Keep in mind it is only possible to change owner key once per hour, so you might need to wait at least an hours from creating the new account until associating it with ledger device.
Update the account with keys derived from your hardware wallet
The last thing you need to do is to replace all your keys to those generated on your device. It is very simple - all you need to do is to follow the process on Hive Ledger Wallet. Let's start by clicking on 'Full access with Ledger Nano S/X'. You need to have Hive application opened on your device.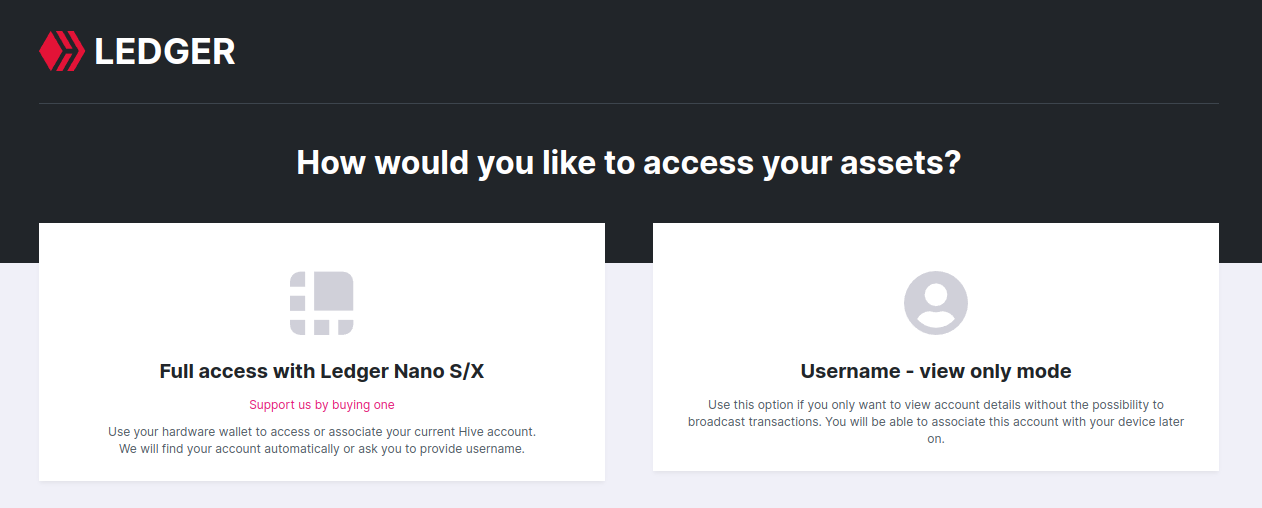 If you do that for the first time, you should see following screen with warning message. That's good, keep going!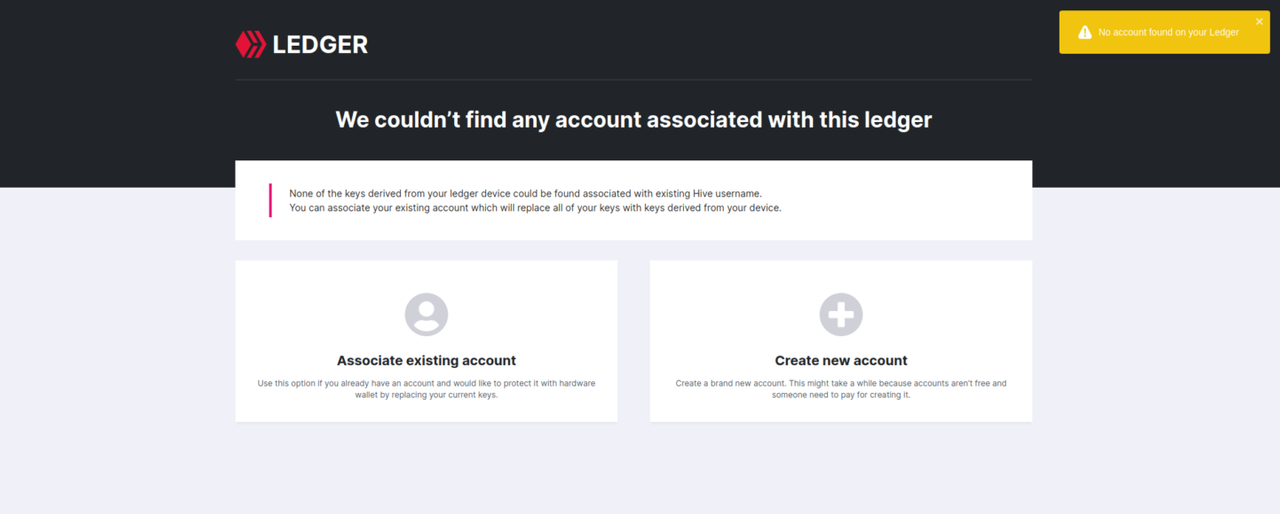 Click Associate existing account to start onboarding process during which you will prove that you own the account by pasting owner private key and the wallet will generate new public keys on your device and update the account.
During the first step, Hive Ledger Wallet will request a new, unused public key that will be used as a new owner key for your account. Click the button, compare new key on your device and approve it to proceed to the second step.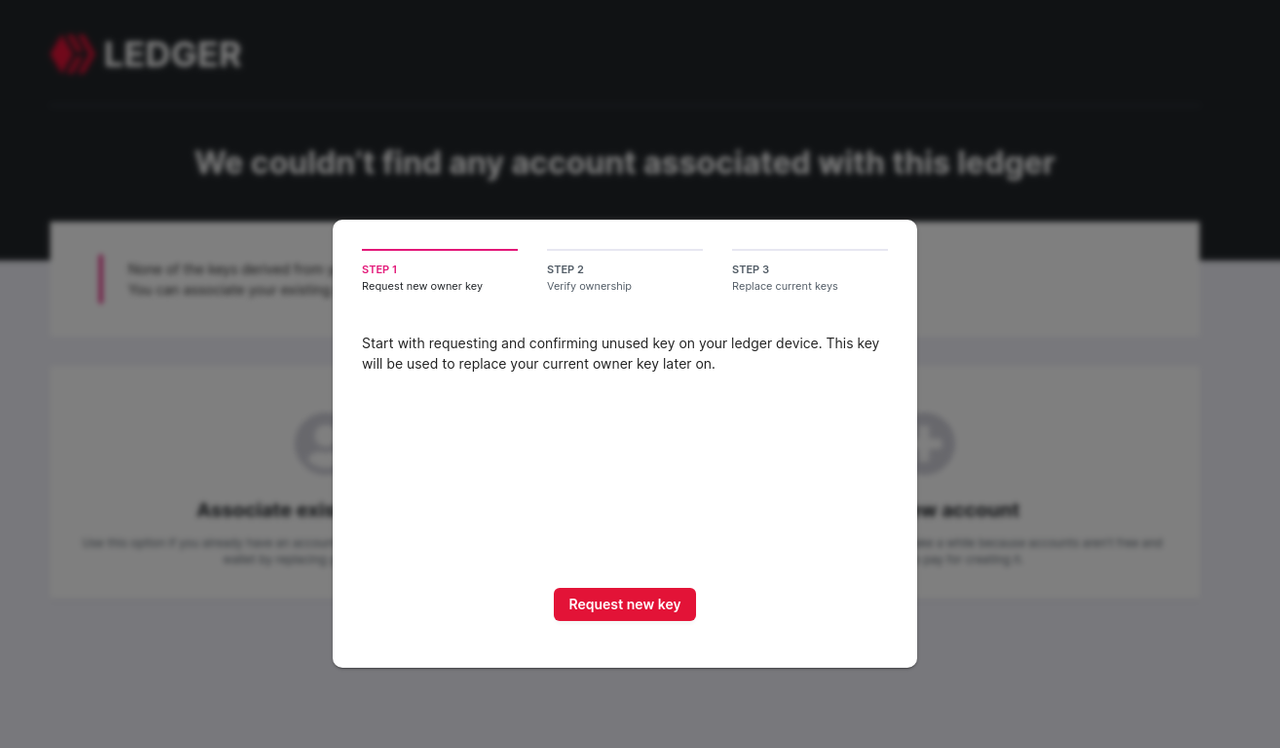 Verify account ownership by pasting current owner key and your account username. This owner key will be used to update all other keys.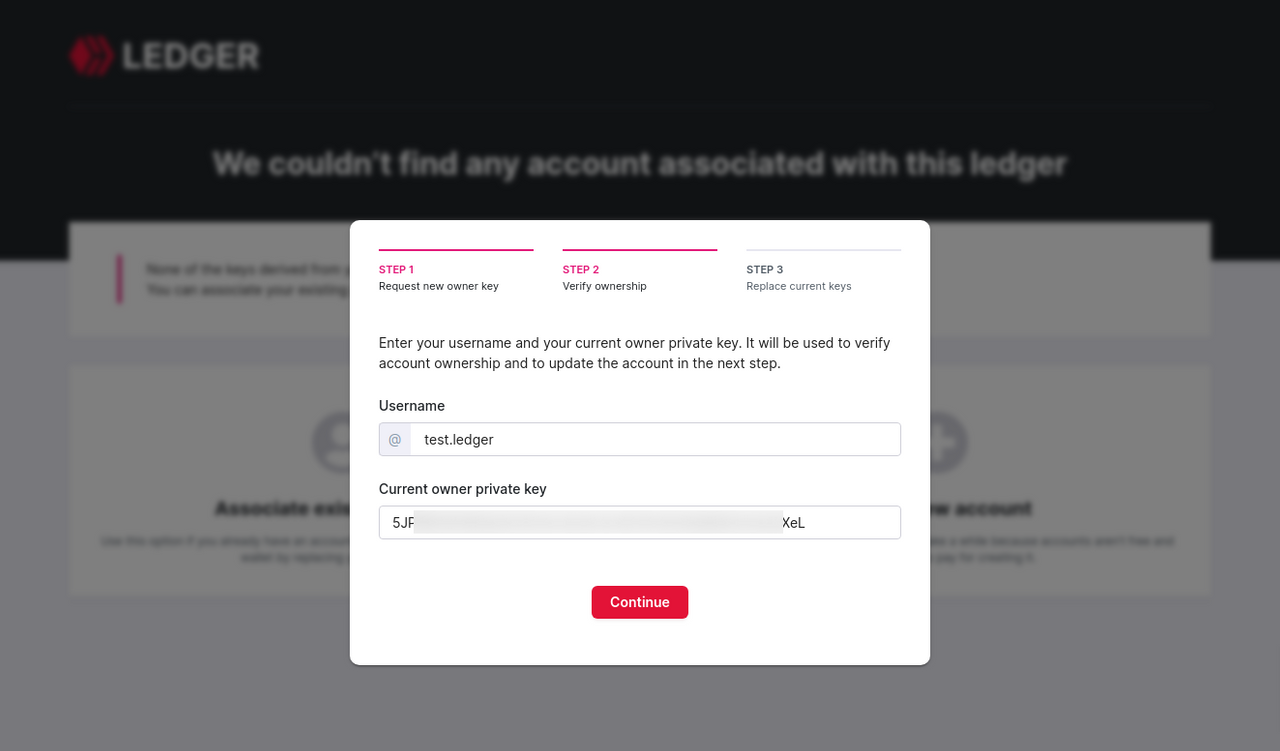 To create a cold storage, make sure all checkboxes are selected. You can of course unselect active and posting keys but keep in mind it won't be a true cold storage.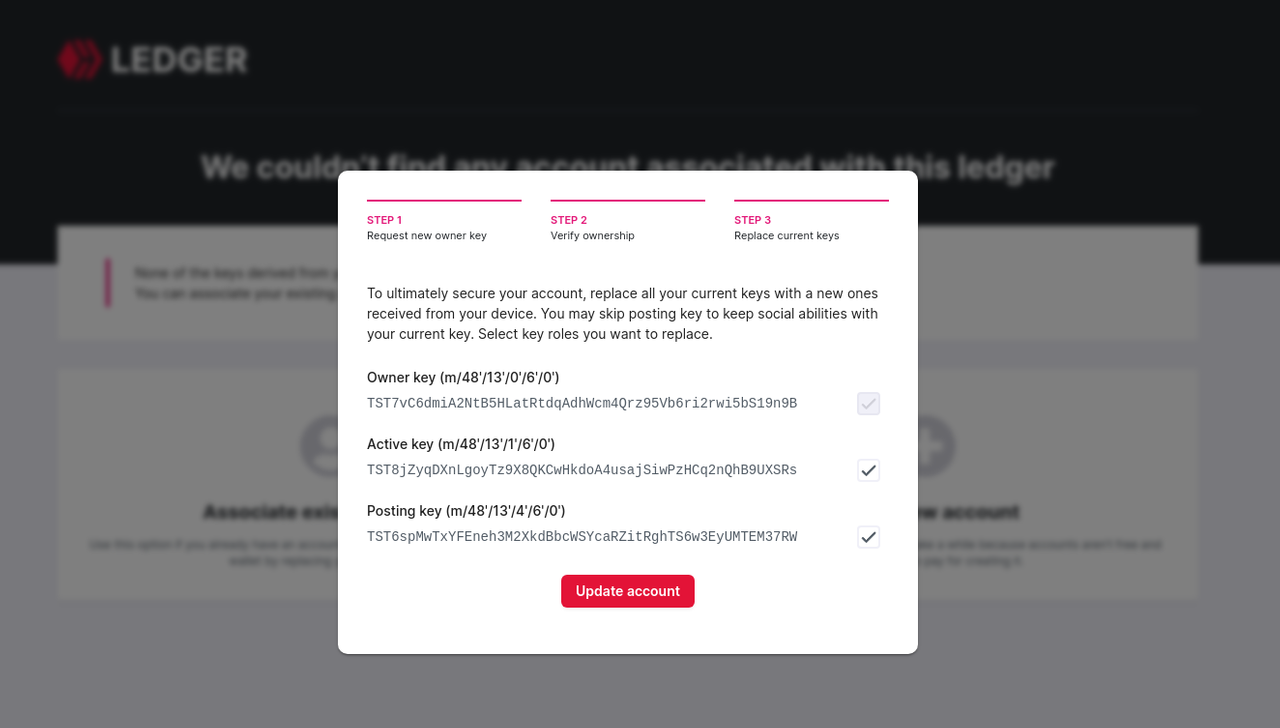 When you click "Update account" you finished the process and you will be automatically logged into Hive Ledger Wallet.
The process of earning HBD savings rewards is even simpler
Buy some HBD
Transfer your HBD into savings account
Transfer HBD to savings
If you already have HBD on your account (cold storage), you can easily transfer it to savings account and start earning interest. Just login into https://hiveledger.io, visit Savings tab, fill Deposit to savings form and confirm transaction on your device.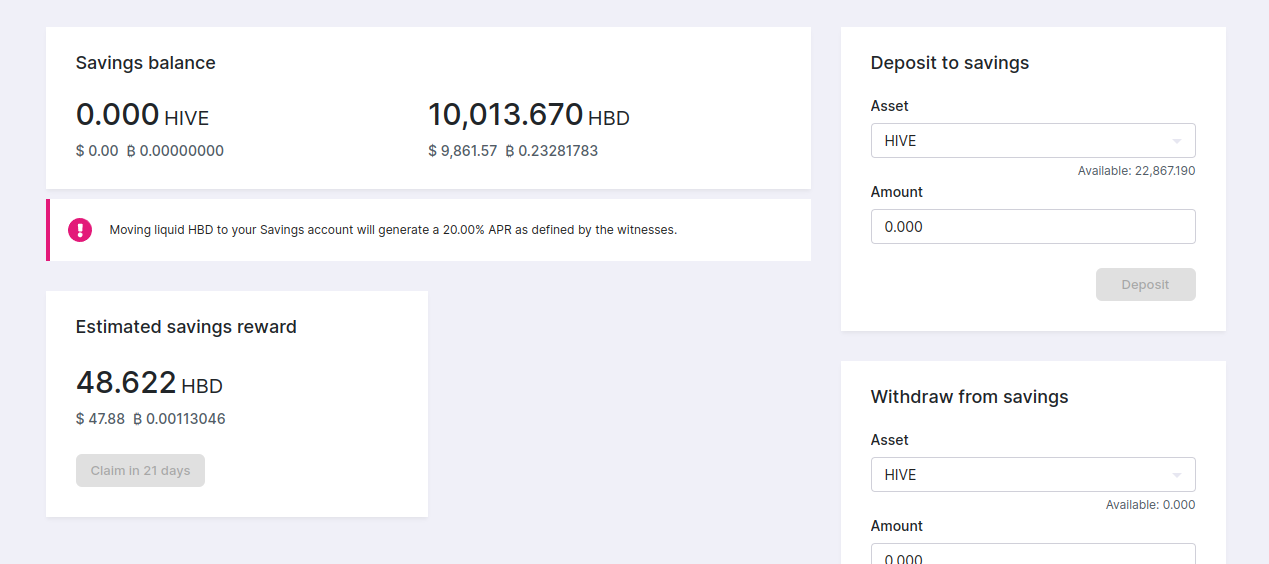 Earning interest will start automatically and you will be able to claim it 30 days after the deposit. You should see an estimated reward if it's higher than 0.001 HBD
---
Support me with your witness vote! Click on the image below: